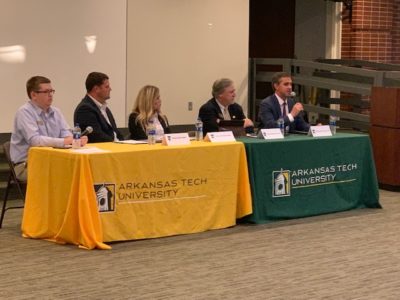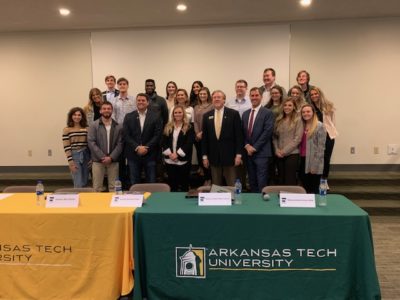 NOVEMBER  2018
Four members of the 92nd Arkansas General Assembly shared their views on higher education policy with members of the Arkansas Tech University Student Government Association (SGA) during a forum at the W.O. Young Building Ballroom in Russellville on Monday, November 26th.
Sen. Bart Hester of Cave Springs, Sen. Breanne Davis of Russellville, Sen.-Elect Greg Leding of Fayetteville and Rep. Mark Lowery of Maumelle answered questions posed by moderator Justin Gunderman, an ATU senior from Plumerville and secretary of public relations for ATU SGA.
Topics included the productivity funding model for higher education, the connections between higher education and economic development, access to broadband internet access for education and the importance of increasing literacy rates in Arkansas.